Cosy Kitchen Coronavirus Update - Changes to Services - How to Order - 9th April 2020
Posted on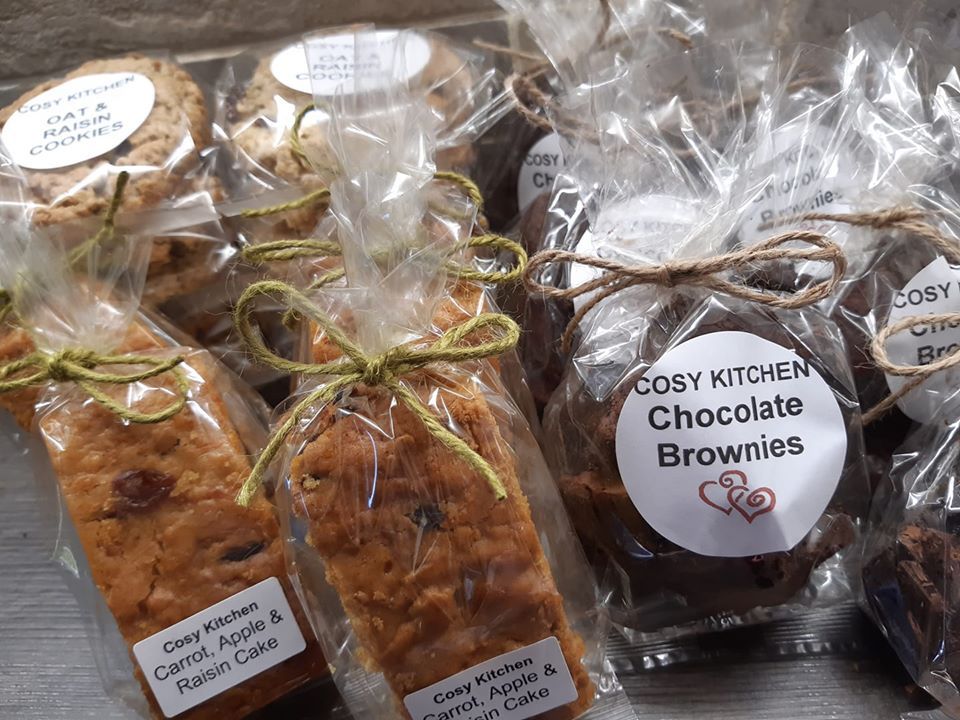 Overview
When the lockdown to prevent the spread of Coronavirus was announced on Monday 23 March 2020, my first thought was to close the business completely as all the Market Locations I operate out of are quite rightly closed; so my Facebook announcement did just that. However, having thought very carefully and having put some additional measures in place, I am now operating a very limited service to accommodate specific customer demand.
Let's face it, all our shopping options are quite restricted at the moment, so the move to online or remote trading is necessary to give customers a little more choice (though this is completely alien to us personable market traders). However, just as we must stay at home, the virtual world must be embraced and I hope that the range of products available enable you to treat yourself, treat someone else or get that gift you've been after!
To this end, I have updated the website, put contactless payment methods in place and have limited the range of baked products available to reduce waste and respond to ingredient shortages.
FAQs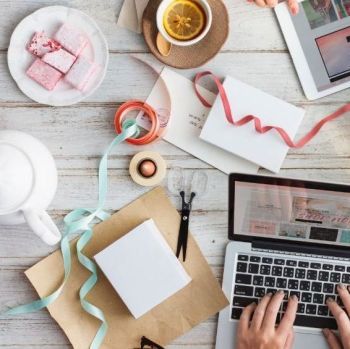 How do I order?
Baked Treats, Gift Packs, Kitchen & Dining Accessories, Mugs and Gift Vouchers can be ordered direct by phone, through the website or via Facebook (Shop or Messenger). If you can't find what you are after, please give me a call and I'll see what I can do.
Delivery
If you live within a 3 mile radius of Cosy Kitchen HQ, contactless delivery to your door is available by yours truly – just remember to choose Click & Collect if you are ordering through the website.
Further away? I can post anywhere in the UK.
At this time I would discourage collection as you guys should be staying at home and staying safe.
So I can stay well to bake and deliver your sweet treats; I will be despatching parcels and delivering locally once a week only. Like everyone else, I need to stay at home as much as possible.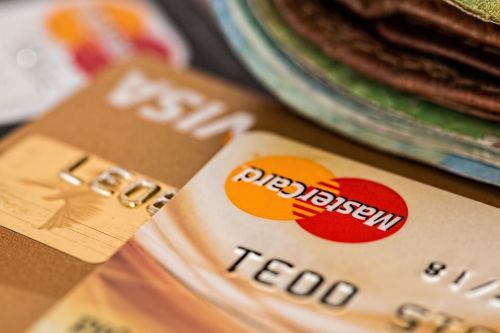 Payment
Secure, contactless Card Payments can be taken via a digital link on your mobile phone and I can also accept payments via BACS and I'm working on PayPal facilities. If you order online, you can of course pay through the website.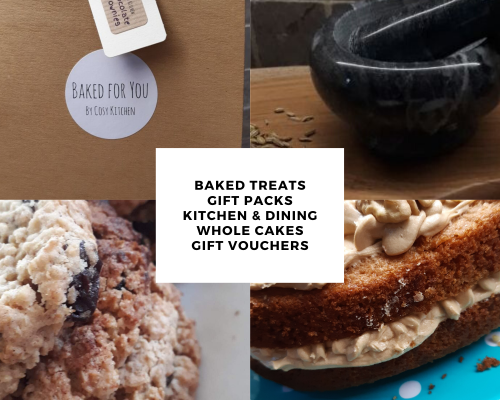 What can I order?
All Product Details can be found on the website, or give me a call or drop me an email if you need any further information – I am happy to help.
Baked Treats including Chocolate Brownies, Carrot, Apple & Raisin Cake and Cookies.
Gift Packs of Brownies, Carrot Cake and Lemon & Ginger Shortbread Jars also available for that special gift…these can be delivered direct by post or local delivery to the recipient of your choice.
Kitchen & Dining Accessories (including Wooden Boards) and Mugs are also available to order online or over the phone or for postal or local delivery.
Gift Vouchers – Need a gift? Don't know what to buy? Then gift vouchers are now available! NB: Gift Vouchers can only be redeemed against purchases made by telephone, email, or in person (once social distancing is no longer necessary). The purchase of Gift Vouchers will also help my little business in these uncertain times…
Baked for You Cakes for special occasions can still be ordered for local delivery. This is subject to availability of ingredients. Please give me a ring on 07752598491 or request a call back to discuss your requirements.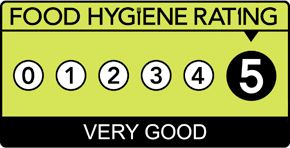 Health & Safety
In addition to contactless delivery and payment, I will of course be looking after myself, doing copious amounts of cleaning and using PPE in the preparation, packing and delivery of your order. Your safety and mine are my primary concerns.
Delivery Costs
Local Delivery is FREE within 3 miles of Cosy Kitchen HQ at WV3 7DX.
Postage & Packing for Postal Deliveries is currently £3.95 for Standard Delivery (2-4 days from despatch) and £5.95 for Express Delivery (next day from despatch).
Queries
This is a new way of working for me as I am a market trader at heart! So, if I have any queries with your order, I will get in touch to iron them out before delivery. In turn, if you have any questions, please do not hesitate to contact me…it would be great to hear from you.
We are living in uncertain times, so all the details here are correct as of 9th April 2020 and are subject to change without notice.