16+ Reasons to come to Cleobury Farmers Market again & again
Posted on
2017 and as a relatively new stallholder at Cleobury; I was not sure what to expect, but I need not have worried as I had a fine and warm welcome. Those reassuring first impressions have stuck with me and developed over the last few months and I now feel like I am part of this little community. Indeed friendly is the first word that comes to mind when asked to describe Cleobury Farmers Market - dig deeper - and it's more than that. This country town Farmers Market is just a fabulous place to be - not just for the people who come to buy the excellent produce from the market; but for the stallholders too. Relatively little competition between stalls provides great variety for the customer and harmony amongst stallholders; thus creating a marvelous sense of community.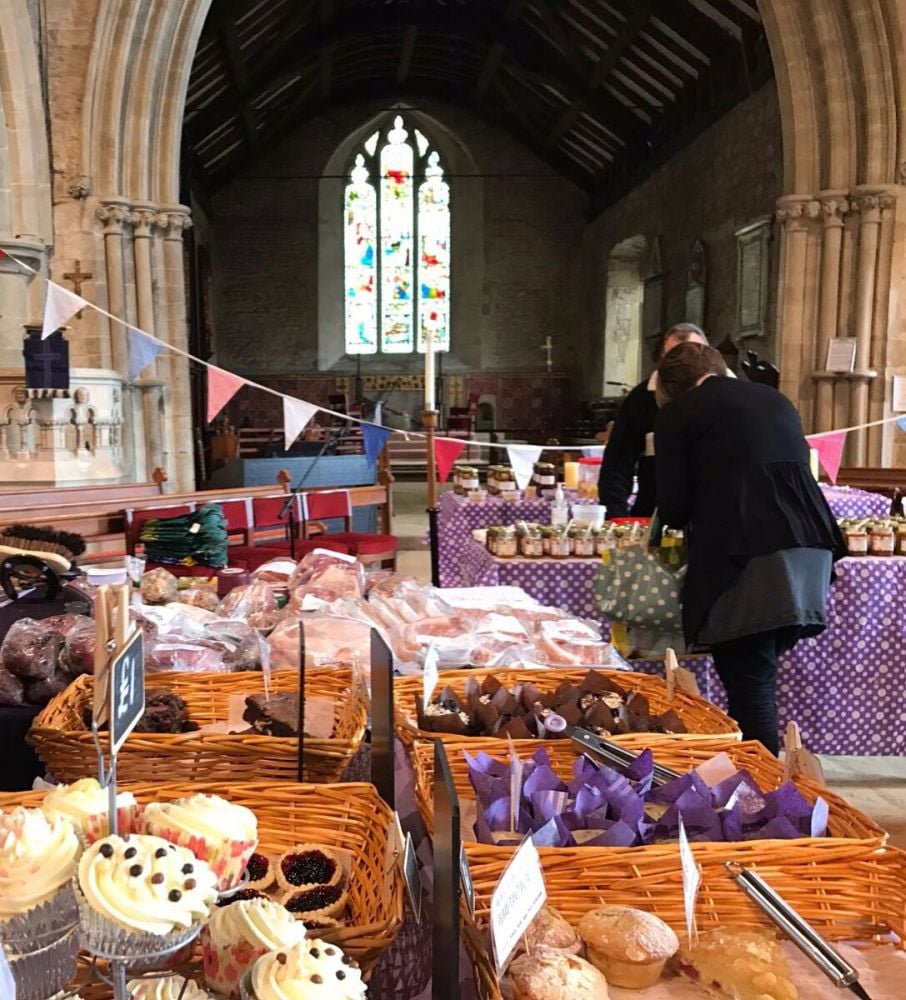 Find the market

Set in the fantastic St Mary's Church in the heart of Cleobury with its sweeping arches and stunning stained glass, it is a great back drop for the market. A lovely variety of stalls available - you can get meat, game, pies and pastries, sweet treats, pickles and jams, hand carved ham, bread, apple juice, loose tea and coffee, quality rapeseed oil and of course Cosy Kitchen's cakes, tarts and savoury scones. There is also soaps, knitted goods, cards, plants, woodwork for the garden (planters, benches and the like) and dog treats (to name a few). All these products are locally produced, hand made (or grown) and of the highest quality...I'm not just saying that because I am a stallholder! I buy from the market too and as a bit of a lover of food I can tell you that the standard is very delicious! We all have our favourite products we like to buy off one another...The craft items are superb too - a unique place to shop and a place to come back time and time again.

Get the low down on the local producers

There are many opinions about first impressions. Some good and some bad. My husbands' first impression of Cleobury Farmers Market was that there was nowhere to park! - now, to an outsider that may seem true and could put people off - but tucked away just off the main High Street are 2 free (yes FREE) car parks plus you can also park for free at the Cleobury Country Centre on Love Lane or on the street a little further up the High Street.

Find the parking
Cleobury has a small centre - blink and you will miss it if you drive through - but if you stop a while; you will discover a nice array of independent shops - and don't forget the side streets as there are some hidden gems there too! And of course there a couple of pubs too serving good quality food! But the market is a wonderful draw...and you are missing a trick if you don't go and have a look! And if you are tired after all that market shopping - the ladies that volunteer at the St Mary's Church will have a nice cuppa waiting for you before you go on your way.
16+ reasons, I hear you ask...where are the rest of them! Well, if you take the average number of stallholders (where each and everyone of them is a good reason to come to Cleobury Farmers Market) plus the variety, location, friendly atmosphere, country town appeal and free parking you have many more than 16 reasons to visit!

So come and see us! Every 3rd Saturday of the month. You won't regret it and we hope that your first impressions urge you to return again and again.

Get the dates in your diary